Circular Loop Designer
The core of the circular economy is organizing closed material loops. The Circular Loop Designer is an online tool to let you easily sketch a material loop yourself. You can start with an empty template or select one of the examples to start designing your own loop. The tool offers a unique library of symbols and arrows to draw your loops. Once drawn, you can easily save and share your sketches.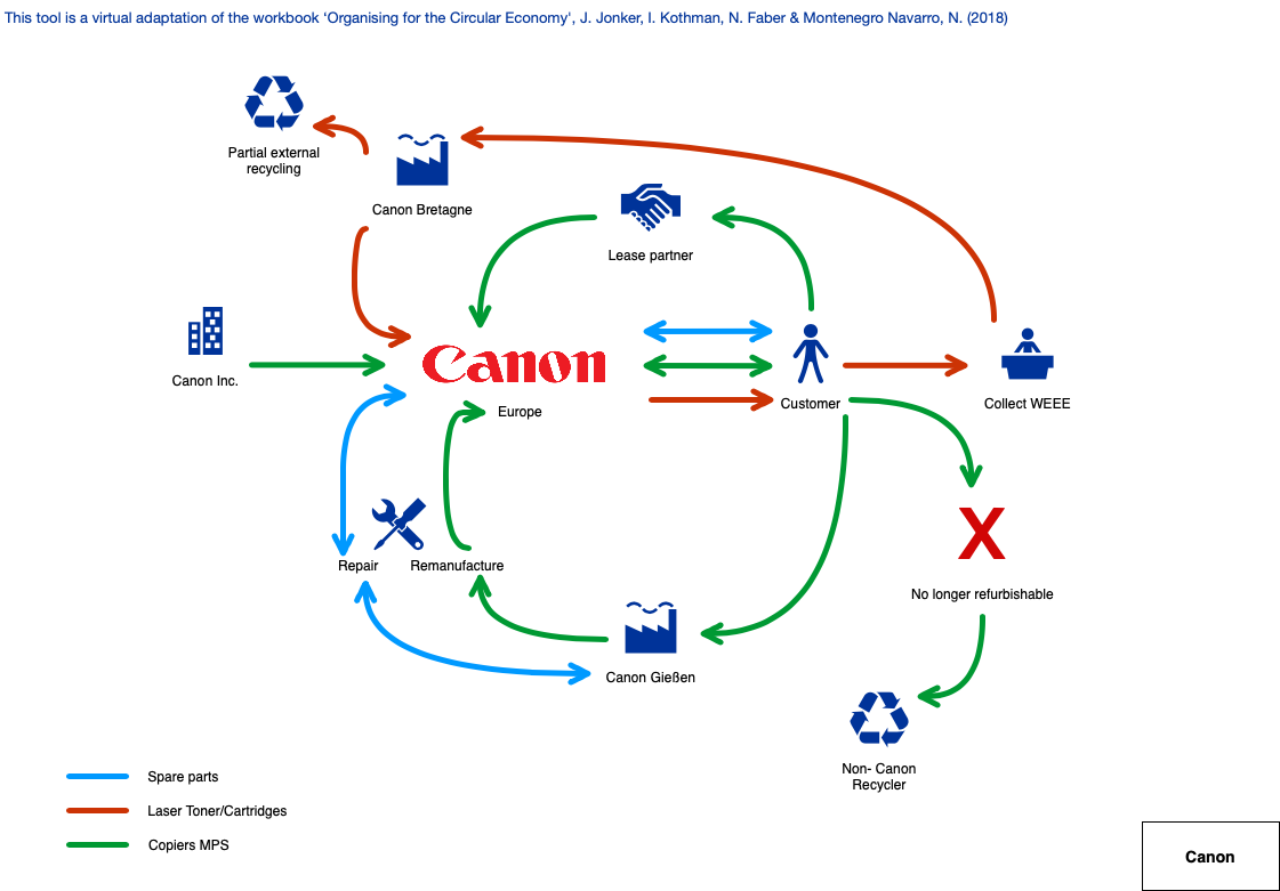 Tips for use
You can use the Circular Loop Designer online tool by yourself. Start by selecting one of the many examples for inspiration and make edits to learn how the tool works.
The tool comes with an extensive set of symbols and arrows to design your circular loop. However, you can also add your own symbols or any other image or pictures by simply copy-pasting them into your canvas.
You can save any of your designs in your Businessmodellab account by pressing the save button. Alternatively, you can Export your circular loop design as an XML file and import it later to continue editing.
Using the tool
Use the icons and the arrows to draw your circular loop. Consider if one the examples is similar to your situation and maybe you can start working from that example. Make sure that your loop design reflects the collective value proposition you have come up with or use the drawing tool to experiment with alternatives. Circular loops can have different purposes and shapes, four examples are:
Closing a material loop (as) completely (as possible). Materials stay in use with the same quality level, if possible.
Utilizing the value of materials for as long as possible. Materials stay in circulation longer.
Obtaining materials geographically as nearby as possible and keeping them there.
(Radically) reducing material use and consumption in the various phases of the loop.
Icons
The tool comes with an extensive set of carefullt designed icons belonging to four categories.
Human – icons related to humans and feelings,
Arrows – icons in the form of arrows to draw connections
Matter – icons to indicate all kinds of materials and processes to help you draw your circularloops,
Products – icons indicating all kinds of (semi-finished) products.
Find the icons that best fit the context. A short text can be added to each icon. This will help you to convey the story behind your circular loop.
Arrows
The arrows come in different colors, i.e. green, blue and red. Apply a green arrow to indicate an already sustainable flow. A red arrow may indicate a more traditional flow. A blue arrow is indicative of a flow that is still under development.
Parties
Take the loop you created in the previous step and add the names and roles of the parties involved in each of the different phases of the loop. Some of these parties may already be known but others still need to be filled in.
Background
The Circular Loop Designer is based on the workbook 'Organising for the Circular Economy' by Jan Jonker, Ivo Kotman, Niels Faber and Naomi Montenegro Navarro. The book and a set of 30 complementary infographics can be downloaded as a pdf for free from www.newbusinessmodels.info/publications/.